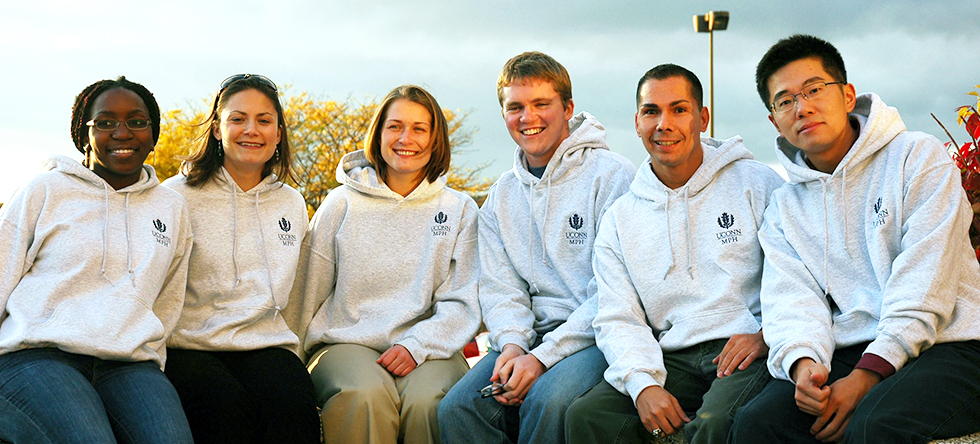 Our Program
UConn has offered a Council on Education for Public Health (CEPH)-accredited Master of Public Health (MPH) degree since 1984. An MPH is awarded upon satisfactory performance in 16 courses, 48 credits, distributed among the program's required, elective, experiential and culminating requirements. Full-time students can complete the program in 2 years; part-time students will require 4 years. A full description can be found in the Program Handbook.
Our Master of Public Health (M.P.H) degree is intended "to prepare public health professionals … in order to benefit the well-being of Connecticut residents and others through organized, comprehensive, effective and just action." The curriculum focuses on applied public health practice to prepare leaders for our state's workforce. Dual degree options are available for students in the UConn schools of Medicine, Dental Medicine, Pharmacy, Law, and Social Work. The M.P.H. program, nationally accredited by the Council on Education for Public Health (CEPH), is directed by David Gregorio, Ph.D.
Foundational (i.e., required) curriculum:
Introduction to Interprofessional Public Health Practice
Health Administration
Public Health Law
Epidemiology & Biostatistics I
Public Health Research Methods
Social & Behavioral Foundations of Public Health
Environmental Health
Practicum in Public Health
Epidemiology & Biostatistics II
Electives curriculum (examples from recent years):
Epidemiology:
Infectious Disease Epidemiology
Intermediate Epidemiology
Public Health Issues in Genetics
Epi of Substance Abuse Disorders & Psychiatric Co-Morbidities
Chronic Disease Control
Epidemiology of Disabilities
Environmental health:
Environmental Health and Ethical Decision-Making
Occupational & Environmental Epidemiology
Social sciences:
Health Education
Food, Health and Politics
Social Inequality and Health Disparities
International Health
Public Health Nutrition
Foundations of Public Health in Disabilities
Quantitative methods:
Critical Reasoning in Design of Population Health Research
Biostatistical Methods in Clinical Research
Topics in Intermediate Biostatistics
Law and ethics:
Human Rights and Health
Disability Law, Policy, Ethics and Advocacy
Public Health Ethics
Health administration:
Foundations of Public Health and Disability
Public Health Agencies
Women, Public Health and Reproduction
Comparative Health Systems
Alcohol and Drug Policy Research
Public Health and Policy in an Aging Society
Health Program Evaluation
Challenge Yourself
Here at UConn, you'll find a curriculum that challenges you to consider your role in shaping health services and the environment to benefit health and well being. An experienced, engaging faculty will provide you with ample opportunity to pursue scholarship and service learning activities where you'll acquire skills needed for leadership in the public health field.