Summer Activities: Intentional Action and Volunteer Opportunities
Keney Park Sustainability Project
Over the next several weeks, the Keney Park Sustainability Project will be hosting Health, Wellness and Safety events for Hartford's residents and you can play an important role in their success. The first event will occur on Saturday June 25, 8am-2pm. Volunteers are needed to help with set up and take down before and after the event and join with residents in the many planned activities from trout fishing to a basketball clinic to joining the gratitude walk through Kenney Park's new walking trail. You can learn about the amazing initiative that is the Kenney Park Sustainability Project at: https://www.keneyparksustainability.org/. See flyer for more details.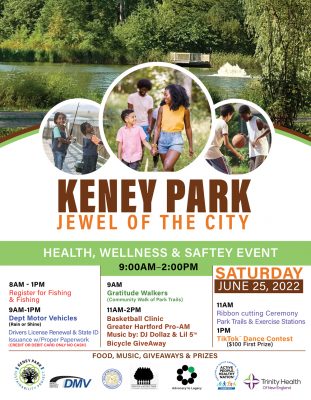 DominGO! Hartford
DominGO! Hartford will transform our city streets into car-free public spaces. The first event is scheduled for June 26th on Farmington Avenue, 9am-3pm for people to visit Hartford restaurants, shops and attractions in healthy, active ways, creating physical and mental health benefits for all ages and abilities. These events will connect our communities and encourage everyone to get active, get outside, and get moving! You can learn about DominGO! at: https://www.domingohartford.com/ and more information about volunteering can be found here: Volunteer (domingohartford.com/volunteer). Volunteers are needed to help with set up and take down before and after the event, help manage intersections to keep all participants safe, and to be part of the evaluation team collecting surveys and observational data during the event.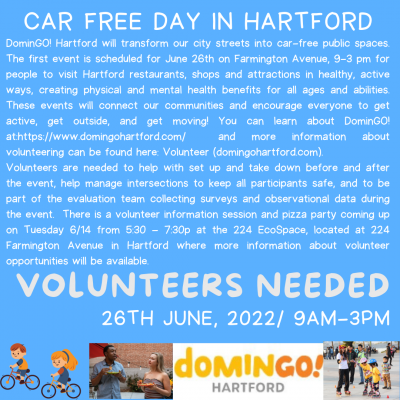 WHY CHOOSE UCONN?
Public health careers for the 21st century will require competence in the interprofessional coordination of skills relevant to systems-level approaches to health that focus on our environment and social structures.  You can join students, alumni, faculty and community partners who are at work shaping our public health system and services. When thinking about public health around Connecticut, it's hard to exaggerate our program's influence. Our alumni and faculty are found in various positions across the university throughout the state and nation. Graduates hold positions as:
health directors and staff in state, local, and federal health departments
managers of community health, social service, and nonprofit organizations
managers and scientists of pharmaceutical firms, health insurance companies, and hospital systems
educators and researchers
community-based physicians
public policy advocates